There are a number of certifications that can greatly boost the credentials of freight forwarders. Regardless of whether you are a newcomer in this sector or a veteran forwarder with years of experience, obtaining one or more of this prestigious accreditation will help get a formidable presence in the international logistics sector. In this post, we will discuss the most important certifications that every freight forwarder should try to garner.
Top 5 certificates for freight forwarders
AEO (Authorized Economic Operator) Certification
Anyone working in our industry is surely familiar with this certification. Garnering this certificate will give your company a globally recognized security standard. In other words,  your business will be certified as a 'reliable' and 'secure' trade partner. It offers a number of advantages such as lower charges for inspection of imported/exported cargoes, quicker shipment release, priority treatment by customs officials etc.
AEO certification can be classified into three categories:
AEOC: This is a customs simplification certificate. It is issued to financially solvent freight forwarders who meet the customs compliance criteria.
AEOS: This is a security and safety accreditation. It is issued to freight forwarders who meet the criteria of financial solvency, appropriate record-keeping standard,  the right safety and security standards, and customs compliance.
AEOF: This is a combined certification implying both customs simplifications and security and safety certificate
Additionally, this certification is slowly coming up as an industry standard. Some of the benefits of these certifications are as follows:
Seamless customs declarations

Seamless transit process

Simpler admittance to special procedures

Priority treatment of shipments if chosen for control

Centralized clearance self-assessment

Duty deferment guarantee reduction

Elimination of prior sales provisions with respect to valuations
Obtaining one or more of these certifications will surely help you make your way up the ladder in this competitive scenario.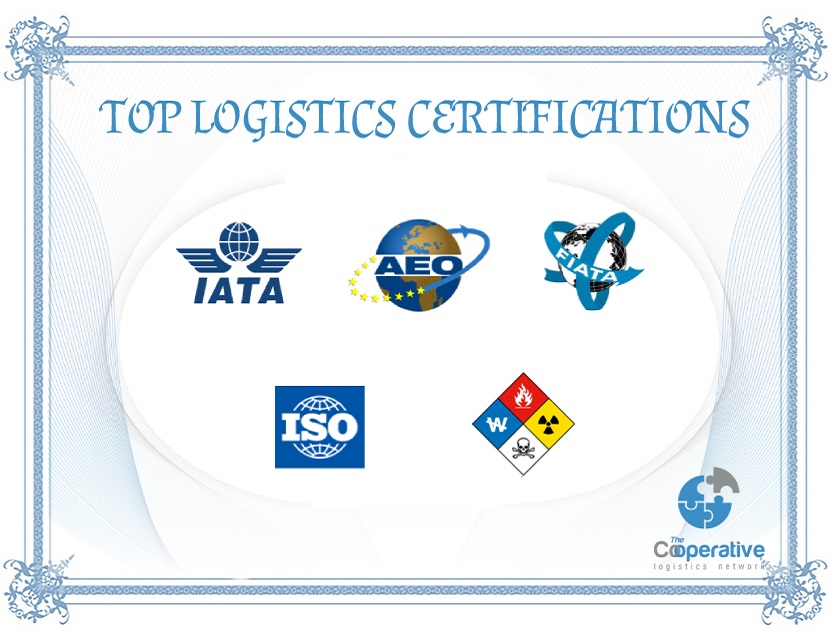 IATA (International Air Transport Association)
Logistics companies providing frequent air freight services should definitely seek to obtain this certification. It is the most coveted certification for air freight forwarders. IATA along with FIATA is presently optimizing their Air Cargo Program to better address the requirements of the air cargo industry of our times in a way that would ensure greater benefits for both the airlines and the forwarders.
Moreover, IATA also offers a Cargo Account Settle System (CASS). This is a data processing and client management system created to facilitate communications between the airlines and the forwarders.
If you apply for it, you will get to use the 'IATA Cargo Accredited Agent' logo. This logo will in turn boost your prestige and credibility. Additionally, they will provide you with an 'IATA Numeric Code'. It will allow you to be instantly identified by the international air cargo industry.
FIATA
FIATA (International Federation of Freight Forwarders Association) was created back in 1926 in Geneva, Switzerland. Freight forwarders with financial solvency and a strong client base should try and become members of FIATA. The members need to abide by the rules of FIATA's Business Integrity Statement. In return, they get to boost their reputation as one of the most competent forwarders in the market. The certificate awarded to the member companies implies that it complies with all the legal requirements and is committed to maintaining compliant behavior.
FIATA members get to avail of the following benefits:
Use of FIATA logo for enhanced credibility and reputation

Addition of the company's name and address in the FIATA website and member's directory. Companies are allowed to advertise their offerings at a reduced price.

Members receive the FIATA review magazine that covers all the relevant topics in the transport and logistics sector.

An HQ meeting every year increases the networking opportunities of the member companies.
This definitely helps to boost a company's credentials and has a recognized value among the customers and thus can be a decisive factor when it comes to choosing the service of a number of competitors in contracts. That is why we highly recommend it to you.
In case of acceptance, your name and address could be viewed on the member directory on the website of FIATA. Moreover, you can get the chance of advertising your company at a discounted rate on the member directory. This considerably could boost your visibility of the members.
Dangerous Goods Certificate
Logistics companies undertaking the movement of hazardous materials should obtain the DG certificate. In other words, a Dangerous Goods Certificate will indicate that your team is capable of the proper packing, storing, handling, and moving of dangerous goods.  It also implies that these items won't endanger your employees as well as the public at large. A DG certificate implies that you are capable of handling hazardous substances such as explosives, inflammable liquids, infectious substances, radioactive substances, oxidizing materials, gasses, and more.
Companies can also consider getting a DG training course for becoming veritable experts in the sector of hazardous cargo.
Some of the most obvious advantages of this certification are
Boosting your company's reputation when it comes to moving dangerous goods.

Lowering the possibilities of fines and downtime because of accidents or violations of rules.

Changes of getting more projects in this sector which translates to greater profit.
ISO 9001:2015
ISO 9001 (International Standard for Quality Management Systems), was created more than 30 years back by the International Organisation for Standardisation (ISO).  It is an internationally recognized standard in the logistics industry. ISO 9001 is one of the most popular quality control tools across the world.
Basically, obtaining this certification implies that your company has a robust process focusing on quality service while minimizing the environmental impact. This standard allows you to create a process that is ideal for increasing your work efficiency. It helps the companies to drive constant improvements leading to more efficient supply chains. To quote from the official website of ISO, "ISO 9001 is a standard that sets out the requirements for a quality management system. It helps businesses and organizations to be more efficient and improve customer satisfaction."
This certificate will come with the following advantages for forwarders:
Constant improvement- your partners will understand that they are teaming up with a pioneering company.

Management- Your organization has set objectives and your team is doing their best to achieve them.

Optimum risk and opportunity management- you are striving to identify your weak points and focus on finding solutions.

An integrated method- the recent addition to the ISO standard implies a comprehensive management system that will result in a flexible and streamlined business.