Relationship building is the cornerstone for the success of independent freight forwarders and this is exactly what an in-person freight forwarders conference can help you achieve. Networking is one of the key aspects that will help you explore new business avenues and build your brand. Most importantly, active networking will help you bring many new projects your way from your international network partners. However, successful business meetings are more than that. The new relationships you will forge over a drink, during the day trip or in the course of a casual conversation during coffee breaks are the intangibles that will help you create deeper and more meaningful connections with your partners.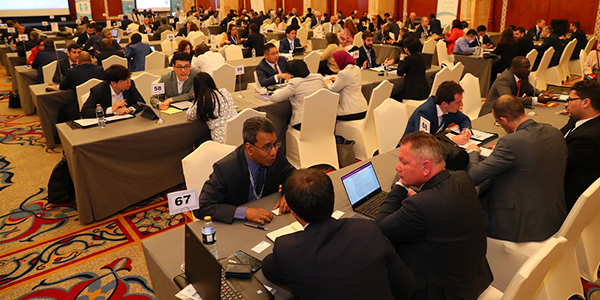 The Cooperative Logistics Network's 6th Annual Meeting
The Cooperative Logistics Network is one of the best logistics networks comprising nearly 330 handpicked freight forwarders from 137 countries who collaborate to expand their businesses and serve new territories worldwide. As a network of reliable forwarders, it has better resources in terms of size and greater outreach than some of the largest multinationals. Additionally, the Cooperative Logistics Network is the first freight forwarders network to make available a free Transport Management System (TMS) that the members can use for free. The Cooperative Logistics Network's member-exclusive TMS FreightViewer allows for instant online door-to-door quote generation along with several other advantages.
What makes it the best freight forwarders conference
Every year, The Cooperative Logistics Network organizes an Annual Meeting for its members to come together in one place at one time, reducing expense and time spent away from the office. Instead of travelling to country after country and city after city to meet the same amount of people and exchange the same amount of business, you travel to just one.
The next edition of the Cooperative Logistics Network's's Annual Meeting is all set to take place from 11th to 13th March 2023 in Phuket, Thailand. As a member of one of the leading logistics networks of our time, The Cooperative members will get to meet their partners and smooth the way for many lucrative projects from nearly 330 international agents across 137 countries.

In the last two years, members of The Cooperative Logistics Network touched base with their partners from home by participating in Virtual Conferences. These online meetings were crucial for the agents to network with their partners during the stay-at-home mandates. Nevertheless, now that the situation has come back to normal and the travel restrictions have lifted, companies across the industries are participating in group events and in-person meetings for enhanced collaboration. Therefore, The Cooperative Logistics Network is expecting more members than ever.
This is one of the best freight forwarding conferences because of the sheer number of attendees. Most importantly, The Cooperative Logistics Network's strict selection process ensures that the agents you get to network with are some of the most reliable forwarders in their territory. With agents from almost every country, this will be one of the most productive conferences for freight forwarders.
The fantastic networking ambiance provided by the network makes it congenial for active collaboration among members. Moreover, The Coop also takes action in the unlikely event of bad payment or non-payment thereby providing a safe platform for cooperation.
As one the best logistics network of our time, The Cooperative Logistics Network's Annual Meetings designs its Annual Meetings in a way that offers the delegates the best venue, ambiance and agenda to spark innovations and accelerate engagement. Regardless of the productivity that the event will foster, what matters the most are the precious moments of one-to-one connections. While new digital communication methods like emails, video calls and text messages have considerably advanced in the last few years, in-person meetings still form a crucial component for building a culture of trust. They help to foster rapport with your partners and allow you to connect with them on a deeper level.

One-to-one Meetings
The one-to-one meetings with your existing and would-be partners are indispensable for expanding the scope of your business. Moreover, face-to-face communication helps to bring a sense of community within the network enabling all our agents to socialize and interact which in turn lays the foundation for trust and a better working relationship.
Group Tour
Additionally, this year The Cooperative Logistics Network's Annual Meeting also includes an optional Corporate Group Tour to cement the networking ties among members and make way for lasting partnerships. This day trip will incorporate a lot of fun and frolic into the business meeting while giving you a chance to explore the marvels around Phuket.
Importance of face-to-face meeting for independent freight forwarders
· Promote your company
The Cooperative Logistics Network's 6th Annual Meeting is a perfect opportunity to promote your company among nearly 330 trustworthy independent freight forwarders from over 137 countries across the globe. It will give you a chance to publicize your company, and talk about its credentials and strong points to people who matter to your business. Furthermore, speaking directly with your existing and potential collaborators enormously increases your prospect of gaining new projects.
· Build new relationships
Strong partnerships are absolutely essential for the long-term success of small and mid-sized freight forwarding companies. Getting face-to-face with hundreds of business partners will surely foster a sense of trust which in turn will promote deeper connections and eventually long-term collaborations. A friendly discussion over a cup of coffee will help you extend the relationships with your partners beyond the confines of the project at hand. In other words, The Cooperative Logistics Network's Annual Meeting will help to nurture trust and camaraderie.
· Come to quick decisions
The Cooperative Logistics Network's in-person meetings are known to result in quicker decision-making. Rather than spending weeks sending emails and making phone calls, meeting face-to-face once a year and hashing out the details of the upcoming projects, is way more productive. Additionally, these meetings allow you to share online presentations of your company and visually illustrate your ideas. This in turn ensures that your partners understand your vision. As for the remaining follow-ups, you can always count on emails and phone calls.
· Communicate effortlessly and address sensitive issues
In-person meetings allow for better one-to-one communication by allowing both parties to interpret nonverbal cues like the facial expressions, gestures, and body language of their partners. It not only increases clarity and minimizes the chances of misinterpretation but also helps you address sensitive issues. For example, it is much easier to talk about the estimated project cost or about any apprehensions you have regarding an upcoming project, during an in-person meeting. They allow you to clearly express their opinion and point of view before finalizing the projects.
Be there to sit in person with your partners and enlarge the scope of your business
After a two years break, The Cooperative Logistics Network is once again getting ready to bring together the delegates for three days of a face-to-face meeting. This meeting will facilitate better networking and promote engagement and relationship building. Other than the business meetings, you will also get to interact with your partners under less formal circumstances. The cocktail reception, the dinner party, and the day trip are some of the informal activities that will also help to reinforce the bonding among the network members. Your participation in this event is absolutely essential for the success of your business.