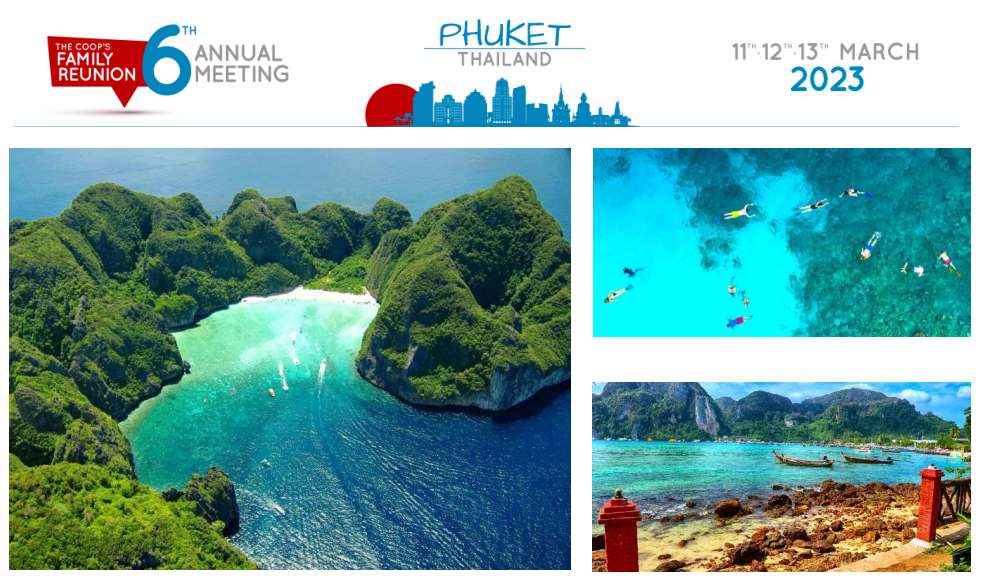 A corporate trip with your industry peers can offer a splendid opportunity to enjoy a lovely day out while building strong bonds and lasting friendships with your partners. Even in the era of Zoom calls and online meetings, business trips have made a comeback since the last few years were not conducive for face-to-face corporate group activities because of the pandemic. A corporate day trip not only creates a relaxing environment but also stimulates engagement and promotes strong bonding.
The Cooperative Logistics Network's 6th Annual Meeting which is all set to take place from 11th to 13th March 2023 will come with a brand new activity. This year, The Coop has organized an optional half-day sightseeing tour with your fellow members to some of the remarkable spots on the gorgeous Phi Phi Islands, and attending it can augment your networking in several ways.
Corporate outdoor activities which usually come in the form of a day trip or a weekend getaway have become enormously popular among various corporations and organizations across the globe. The term "bleisure" which means a blend of business and leisure, has become a catchphrase that is being encouraged and adopted by many multinational companies.
Today we are going to talk about Day Trip to be held during The Coop's 6th Annual Meeting and the reasons why all delegates need to be a part of it.
Advantages of attending corporate day trips
A perfect start to your business relationships
Attending a business event at an exotic beach location can have a positive effect on the mind of the attendees. It will give you the perfect orientation for your business meeting and help you get acquainted with your network partners in a friendly and stress-free environment. The gorgeous backdrop of Phi Phi Islands will definitely make you eager to engage with other delegates and help you strike the right chord with your future business partners. The tour will help to break the ice between members who are not yet acquainted and smooth the path for a lasting friendship between you and your existing and would-be partners.
The corporate group tour will allow you to engage in several outdoor activities and motivate you to create fresh ideas. One of the primary reasons why we have organized this group tour is to allow our agents to benefit from a leisurely atmosphere on the first day of the event before commencing the business meetings on the following day. Apart from allowing you to spend a relaxing outdoor time and enjoy the scenic beauty of the island, the group tour will help to promote friendship between network members and improve your productivity.
Reinforce your networking
A day out with your network partners in a marvelous location can be an excellent way of reinforcing your networking activities. We have come up with the option of this corporate tour to inspire better communication and team-building activity among the members. Moreover, the primary reason for organizing this day trip is to ensure enhanced networking among the network members. Socializing with your partners in a more comfortable and friendly environment will foster bonding in a way that cannot be achieved by any other means.
Add a dash of fun to your business trip
The sightseeing tour in and around Phi Phi Islands will also help to incorporate a lot of fun and frolic into our business meeting. It will give you a chance to explore the fantastic shores around Phuket and soak up the energy before you head back to the hotel for attending the Welcome Cocktail Reception.
The Day Trip to the Phi Phi Islands during The Coop's 6th Annual Meeting
The group tour of 9 hours duration will take place on 11th March 2023 from 8:30 to 17:30.
We will pick you up from the hotel by 8:30 and transfer you to the Phuket Pier. From here you will go on a speedboat ride to the Phi Phi Islands. After having lunch at a local restaurant, you will head for a sightseeing tour. This tour will include a visit to some of the most gorgeous locations in Phi Phi such as Viking Cave, the Loh Samay Bay, and the Pileh Cove. Next, we will take you to Monkey Island and Tonsai Bay where you can take part in some swimming and snorkelling activities before being transferred to the hotel for the Welcome Cocktail Reception.
Participating in this leisure trip with your fellow members will allow you to socialize with your network partners in a more relaxed atmosphere which can be of great help in establishing lasting friendships with your existing and would-be partners. Moreover, a relaxing trip with your fellow members will promote friendship in a way which cannot be achieved by any other means.
Make sure to select the Day Trip option while completing your registration to The Coop's 6th Annual Meeting!