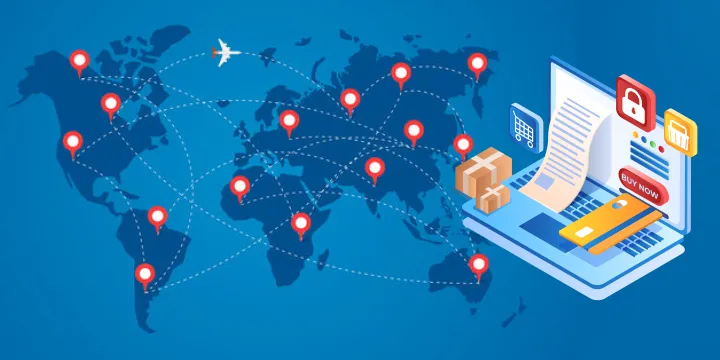 Although the trend of online shopping is nothing new, it was the pandemic which undoubtedly expedited the boom of the e-commerce industry which in turn has directly influenced the companies providing services in the transportation and logistics sector. The e-commerce companies are increasingly outsourcing logistics to fulfill their orders effectively and on time. The rising demands of e-commerce have altered several aspects of the supply chain, including freight forwarding, warehousing, and last-mile delivery. In this article, we are going to discuss how the growth of e-commerce is impacting the global freight forwarding sector.
The impact of the e-commerce boom on the international logistics industry
Lightening-fast delivery
Since March 2020 when the pandemic began, the e-commerce sector has been witnessing an unforeseen rise in consumer demand. As a result, online retailers have been trying to seek a way that will help to strike a balance between quick delivery and minimal shipping expenses. Most e-commerce companies are now offering one-day delivery and some of the e-commerce giants like Alibaba or Amazon are even delivering products to their customers on the same day at little or no extra cost.
For this reason, the transportation and logistics industry is trying to provide just-in-time deliveries as opposed to traditional long-haul deliveries. Logistics companies are now going for single warehouse locations instead of choosing several storage facilities. Moreover, freight forwarding companies are also making a change in their fleet composition and investing in small trucks and trailers that are ideal for last-mile deliveries.
The rise of reverse logistics
Additionally, another important consequence of the growth of e-commerce is the rise of reverse logistics. In the world of online shopping, customers are allowed to send back the items to the company in case they are not satisfied with the product. Therefore, the logistics companies that are into e-commerce are now having to focus on the process of reverse logistics which entails moving cargo from the customers back to the warehouse.
Greater focus on last-mile delivery
The e-commerce boom has made the last-mile delivery process a vital service area for companies in the transportation and logistics sector. Therefore, logistics companies are competing to work up their last-mile delivery so as to compete with the services of the e-commerce giants like Amazon.
Increased client support
Yet another area that has been impacted by the rise of e-commerce is the rise of increased customer support. Companies that are into e-commerce logistics are making use of digitization to provide tailor-made services. For example, they are utilizing chatbots to connect with their customers for responding to any shipment-related inquiries. Additionally, constant communications with customers via SMS and emails have become extremely commonplace for keeping clients posted about the shipment status. Simply stated, the logistics service providers are now emphasizing offering 24-hour customer support.
More reliance on air freight shipments
The need for quick deliveries obviously implies greater use of air freight which is the fastest and most reliable way of moving freight both domestically and internationally. Since the pandemic, we have noted a remarkable change in shopping trends that has driven the rising demand for air freight. Some of the top e-commerce companies like Amazon and Alibaba are even procuring their own freighters to provide seamless deliveries to their clients.
Digitization of operations
The transportation and logistics industry is resorting to the use of up-and-coming technologies to keep pace with the latest industry trends and be on par with its competitors. For example, e-commerce logistics companies are now utilizing Big Data solutions for upgrading their services. Moreover, with the sheer volume of online orders, it has become difficult for companies to collect the required data and analyze them in real time. This is where technologies like Big Data are coming into play. It is enabling e-commerce logistics service providers to collect and analyse data in real time and manage a massive volume of information.
Furthermore, there is also increased use of online payment methods and decreased use of cash. Independent freight forwarders who are leveraging e-commerce to expand their business are also using online platforms for market analysis and forecasts. These online platforms are helping them get a better understanding of their client's psyches. Another important change in the field of digital transformation is mobile integration. Logistics companies are now providing all the details of the shipment on mobile applications that can be easily accessed by the clients.
Use of unconventional delivery solutions
The e-commerce industry is exploring the possibility of unconventional delivery solutions such as robot delivery and drone delivery. Amazon for instance has launched Prime Air which has already started making almost instant deliveries with the use of delivery drones. These delivery drones are unmanned aerial vehicles that can deliver light parcels within just an hour of order placement. They came in super handy during the pandemic for making quick and contactless deliveries of essential items. Drone delivery along with self-driving vehicles are irrevocably changing the landscape of last-mile logistics.
Increased cargo visibility
End-to-end visibility of cargo is of utmost importance when it comes to e-commerce operations. Online sellers update the customers about the exact status of their order right up to the point when it's delivered. For this reason, logistics companies are now investing in data-sharing systems and fleet management and route optimization software to provide better cargo visibility and to better suit the requirements of e-commerce companies.