The transportation and logistics industry is constantly evolving. The supply chain industry is no longer limited to PowerPoint presentations, spreadsheets, phones, and emails. Moreover, because of the technological innovations this industry has undergone substantial changes that has created a reliance on a multi functional team. Professionals in this industry need to have several skills to grow the business.
So what are the skills that a logistics professional should possess to become a supply chain leader? Is a degree and a bit of experience enough to make you a supply chain executive in the coming years? How to become successful as a supply chain professional and what are the skills you need to acquire? In today's blog, we will talk about the skill set required for a successful career in the transportation and logistics industry.
Essential skills required to become the top talents in the transportation and logistics industry
The most common cause of disagreement with clients and parts is miscommunication. As a logistics manager, you have to work with people from all countries and backgrounds. Therefore a proper knowledge of English is absolutely imperative. Moreover, communication in logistics industry also implies direct communication with your employees, clients, vendors, customs officers, and other stakeholders in the process. You need to be attentive about the details that are being communicated to you. It is also important to ask questions about any point which isn't clear.
This industry will bring you into contact with people from all places in various environments. It is up to you to turn those meetings into solid business opportunities. For example, every year The Coop organizes an Annual Meeting where logistics professionals from all over the world representing their company come together to talk about the prospects of project exchange. Forging relationships with people who matter and cultivating those bonds through effective communication can get you many new businesses to work on. This is precisely why proper communication is crucial in this business.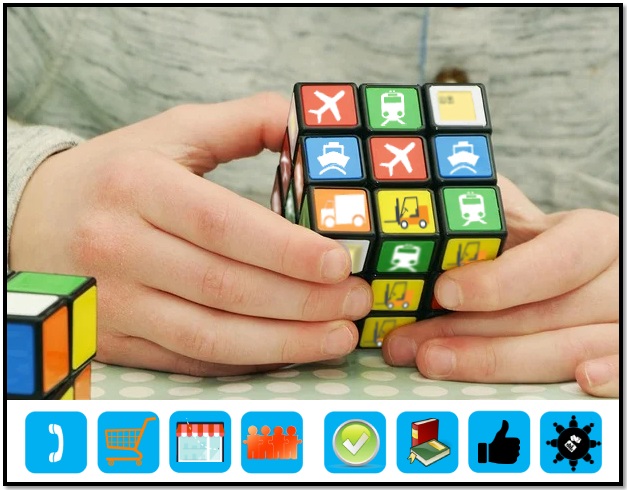 Skills for transportation and logistics industry
Digital training and knowledge
As the logistics industry is steadily embracing digitization it has become absolutely essential for people in this industry to acquire a proper understanding of the tools and technologies. For instance, Transport Management Software and Track and Trace tools are now increasingly being used by all companies big and small. For this reason, the logistics managers should prioritize digital training to advance the interests of the company.
Joining courses on various sectors like Procurement Logistics, Software deployment, Distribution, Lean six sigma, ERP resource planning, and other related topics can be very helpful in this regard. Additionally, they need to constantly hone their skills to keep up with all the changes in technology. Acquiring certifications in these fields will give you plenty of exposure while sharpening your skills. Furthermore, it will give you the required experience to create and cultivate the right knowledge that is crucial for this industry.
A thorough understanding of market dynamics
The transportation and logistics sector is transforming quickly and unpredictably. This transformation is in keeping with the market dynamics across several sectors that are also experiencing a shift in customer expectations. Globalization and the e-commerce boom has opened up new avenues for the logistics industry. For this reason, the supply chain professionals should have an in-depth knowledge of the market trends. Besides, it is also important to focus on the future trends and even predict them to some extent. The only way to do this is to comprehend the market dynamics not only of the logistics sector but also of the specific logistics company.
Simply put, the only thing that is constant in the transportation and logistics industry is change. Even if you are done with all the planning, paperwork, phone calls, and transactions pertaining to a particular project, you can never rule out the possibility of an unexpected change. Last-minute changes are an everyday reality for logistics professionals. It is inevitable in this industry. Consequently, the industry professionals should be ready to welcome change and make the required adjustments. For instance, changing factors like strikes, seasons, availability of workers, weather, etc can alter your delivery agenda. There can be a change in priorities and the logistics manager needs to adapt to the changing situation. Moreover, adaptability also implies adapting to the change in technology and processes.
Customer satisfaction used to be and will continue to be one of the primary aspects of the logistics industry. A logistics professional should have a thorough understanding of what the customer wants. Each customer has unique requirements and consequently, the people working in this industry should be able to provide personalized services for each shipment. To ensure better client servicing the industry professionals should also consider taking courses on the use of various software. Moreover, solid customer service also helps to boost the brand image of the company. A customer review can make or break the reputation of a logistics company. For instance, the transportation of perishable products requires the use of temperature-controlled trailers and cold chain warehouses. A proficient team member should be able to execute this process properly by choosing the right partners while taking care of all the safety regulations.
Extensive knowledge of the industry
An exhaustive knowledge of the latest trends and news from the sector is absolutely imperative for success in this industry. Logistics professionals need to take a deep look at how their competition is dealing with the challenges in the sector.  They need to spend time on analyzing how other companies including the industry leaders are evolving their processes for better customer satisfaction.
This is the reason why The Coop always keeps their members updated with all the latest industry news in the blog section as well as the newsletter. Moreover, members also get to know about the recent accomplishments of their network partners that are published in the news section and promoted on social media.
In this industry decision-making is a crucial factor. A logistics manager often needs to take sound decisions within a very short time. In this industry unforeseen circumstances often arise. A proficient logistics manager should be ready to take important decisions under utmost stress. However, this is one of those skills that is impossible to have as a beginner. This skill grows with time and after spending a few years in this industry one can gradually master this skill.
Logistics is one of those industries that involve reliance on several parties. In other words, teamwork is absolutely imperative for success in this industry. A logistics professional in a managerial position should have the skills to delegate tasks properly for the employees. They need to motivate their team to ensure better efficiency and the desired result. Mentoring the newcomers in the team also forms a significant element of this teamwork. Additionally, teamwork doesn't just imply working with your company's team. It also implies business networking with your logistics partners for successfully executing a complex shipment. You need to invest a considerable amount of time in working with your network partners to foster a cooperative spirit.  This will strengthen the ties with your partners and sound relationships with other network members will in turn make way for many new collaborative projects.