Strategic planning can be defined as an effective management tool that enables a company to optimize its performance for long-term benefits. Although the transportation and logistics industry is extremely volatile, working with a plan has several advantages for freight forwarders. For example, it helps you focus your efforts, encourages your team to work with a single objective and helps you take last minute decisions. A well thought out strategic planning will give you several competitive advantages.
The advantages of strategic planning in the transportation and logistics industry
The main goal of supply chain strategy is to send the cargo intact to the consignee at the right time and in the most cost-effective way. A well devised logistics strategy could allow you to lower your investments, maximize your profits and keep your clients satisfied. Moreover, it also helps to reduce risks by forecasting changes and creating compelling strategies to combat those changes.
In the ever changing market scenario, the transportation and logistics industry is constantly in a state of flux. This is why many freight forwarders are coming up with well-defined strategies according to shipments, mode of transport customers or region. It allows the companies to cope with the market changes affecting one territory, product or mode of transport while maintaining efficiency across the rest.
Things to consider before planning your business strategy
To begin with, there are three things that you need to be aware of before creating your business strategy. These are – the long term objectives of your organization, the means to achieve these long term objectives and the process by which you will execute your goals. Before planning your company's strategy you need to do the following:
Make a five years plan with a list of your objectives

Think about how much cost it will entail to realize your business goals

Create comprehensive strategies about each service being offered by your company. This can include order processing, delivery, air/ocean/road freight, warehousing, inventory, customs clearance etc.

Forecasts of what your team will need in terms of labour, capital, infrastructure, IT, etc.

A balance sheet describing your cost requirements, cash flow, and cost of operation that will provide a clear financial picture of where you stand and how you see company in the coming years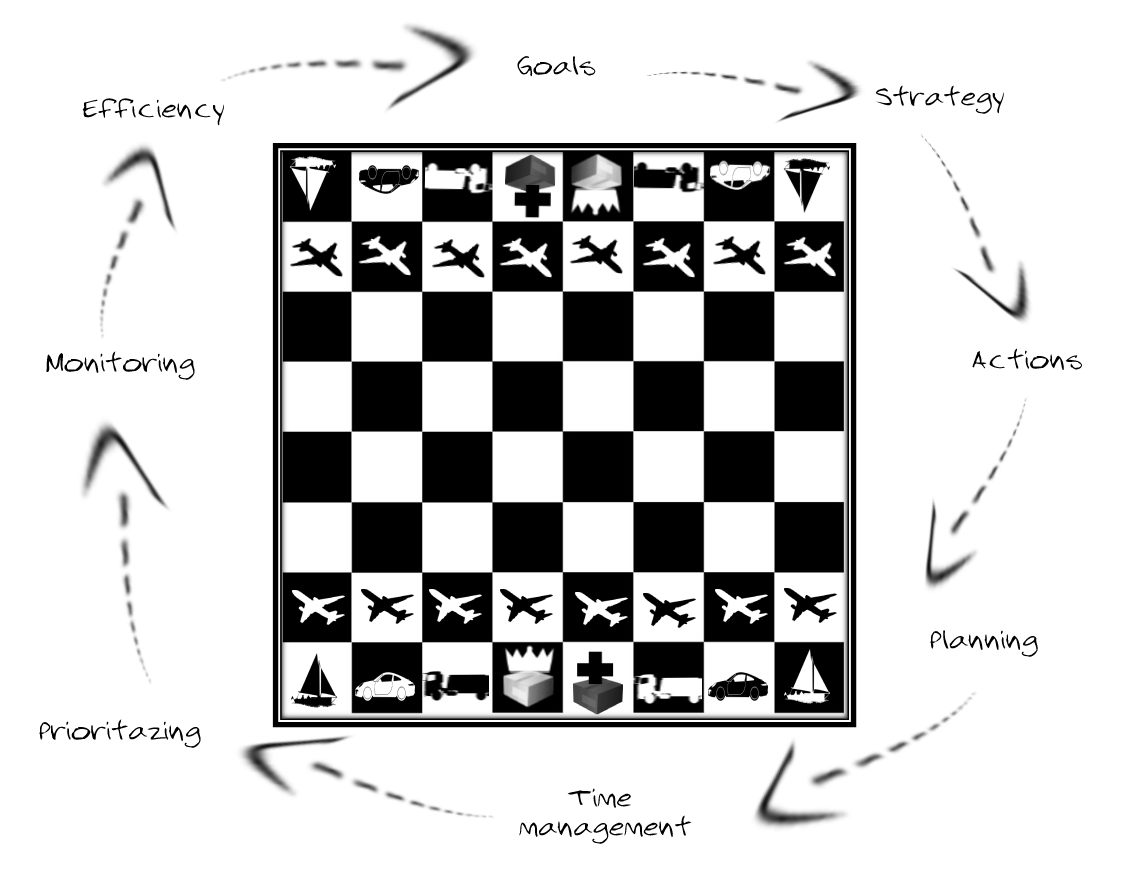 Strategic planning tips for independent freight forwarders
You need to carefully analyze each and every aspect of your business and create an optimum strategy for each process. For instance, there should be one strategy for your project cargo shipment, another for pharmaceuticals, one for sea freight, one for air cargo and so on. You can also create unique strategies for your long-term customers based on their geography and their unique requirements.
Make your plans realistic
Your business strategy should be a realistic one where you take all the contingencies into consideration. In other words, you have to be realistic about several aspects of your business such as employee strength and skills, your IT support, client expectations, relationship with partners and suppliers, etc. Having a realistic idea about your strong-points and weak-points will help you create a measurable plan at an individual and team level. Additionally, you have to make use of data as frequently as possible for creating a robust business strategy.
Spending too much time on planning your business strategy meetings is never a good idea. Instead of going for lengthy planning meetings you need to speed-up your strategy sessions and focus on your day-to-day operations. To start with, you need to check the steps of your strategy process and strike out all the unnecessary steps. Creating a set of ground rules like making time limits for each suggestion by team members can help you cut down on time. Just ask yourself the question: "What is the goal of my company?" and then refocus your discussions.
Create a strategy outline
You need to come up with a strategy outline to achieve your immediate goals. For example, if your short term goal is to improve your customer service then your strategy should include the following:
Do a market research about what your competitors are offering their customers

Improve response time by immediate quote generation

Make use of new software for shipment tracking

Create a plan for your customer support team

Conduct a customers' survey to find out what improvements they want in your service
The availability of better communication tools has allowed the logistics companies to create a collaborative rapport across every stakeholder of the supply chain. This allows for more effective planning and elimination of confusion. Although your primary consideration should be enhancing your own performance and output, it is also equally important to ensure that all the concerned parties are meeting their deadlines and producing quality performance.
Come up with an action plan
An action plan is an absolutely crucial part of your strategic planning. For this you need to conduct a thorough market research and create a scalable action plan. Ideally your action plan should be a working document that can be changed and updated according to circumstances. This plan should specify your immediate goal, how you are achieving it, by when you will achieve it, who are the persons responsible for achieving this, and what resources are required to achieve this goal.
Create a Plan B for the worst case scenarios
Logistics is one industry where a last moment crisis is inevitable. For this reason, it is extremely important to have a contingency plan that will help in damage control by mitigating the worst case scenarios. Disaster management is extremely important for freight forwarders who should be ready for all unwelcome situations. Moreover, having a plan B (in case something goes wrong at the last moment) will help you take control of the situation and execute your project with minimum repercussions on your reputation.
Wrapping it up
As an independent freight forwarder, having an efficient planning team will help you execute each step of the process. Your strategic planning team should only consist of your key management team and the heads of each department. To create a successful planning strategy you must make it a point to conduct regular email surveys and ask for feedback from your clients, and partners. In fact, SMS surveys are an even simpler option and the response rate is usually higher. Creating an effective strategic plan is complicated and time taking but it is a great step forward towards achieving your long-term goals.