Productive collaboration and relationship building are paramount to the success of an independent freight forwarder. Cementing your relationship with logistics partners is indispensable for gaining an international presence. As a member of the Cooperative Logistics Network, you stand the chance to get businesses from partners across 327 territories around the globe. However, keep in mind that collaboration is not a one-way process. You need to fulfill your obligations as a Coop member and send out a part of your projects to your network partners. This is a sure-shot way of getting more projects from your network partners over time and creating the basis for strong and lucrative partnerships within the network.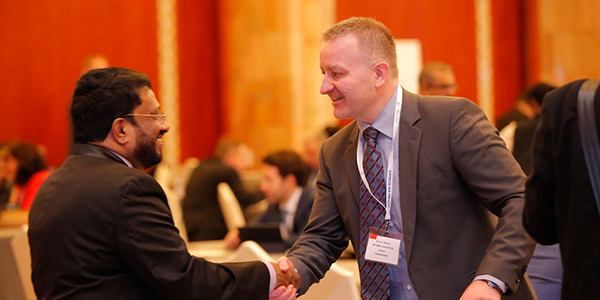 In this post, we are going to briefly glance through 4 crucial tips for better and more productive logistics partnerships.
Tips for profitable collaboration among independent freight forwarders
Attend our Annual Meetings
The first order of business is clear communication and robust networking. Although you should frequently communicate with your partners via emails, phone calls, and video calls, nothing can replace the efficacy of face-to-face meetings. The Coop's Annual Meetings bring together hundreds of independent freight forwarders from across the world in one place at one time. It allows the network members to sit face to face with their existing and potential partners and hash out all the details of their upcoming projects. Sitting one-to-one with your partners at least once a year is mandatory for a productive professional relationship.
This is why you need to attend The Coop's 6th Annual Meeting in Phuket, Thailand, from 11th to 13th March 2023. These meetings are the best way to nurture your partnerships and make way for many mutually beneficial collaborations with your network partners. Moreover, the meetings also give you a chance to promote your business within the network and spread the word about your company and its services. During the one-to-one meetings with agents of your choice make sure to communicate all the important updates to your partners. Communicating the correct information relating to the details of the shipment including its nature, weight, permits, destination, mode of transport, and all other details is crucial for pulling off a successful project.
Register for The Coop's 6th Annual Meeting!
Good communication is the key to securing partnerships
Apart from an in-person meeting with your partners every year, you also need to be in constant touch with them. This is essential for your long-term growth and sustainability. Regular communication is also important for avoiding misunderstandings in relation to project details, your commitment, or even the payment. Additionally, keeping your partners updated about the project status will keep any element of surprise out of the equation which is very important for a long-term partnership. Business relationships when not nurtured dries up like any other relationship. This is precisely why after attending The Coop's Annual Meeting it is crucial for you to follow up with your partners.
Understand your responsibilities
In order to execute a shipment properly, you need to understand your exact responsibilities and start working beforehand. Your responsibilities could include various aspects of the project such as documentation, packing, warehousing, labeling, arranging for special equipment, booking containers, customs clearance, etc. Before going ahead with the project, make note of all the specifics of the job you are about to handle and do not hesitate to ask your partner whenever you have any doubts or queries.
Pay your partners on time
This is probably the most important factor to ensure a smooth long-term relationship with your logistics partners. Nobody wants to do business with a company that has a history of non-payment. A good credit relationship is the first step toward a good partnership. Delaying your payments or not paying incorrect terms are the most common obstacles to a productive partnership.
This is why as an independent freight forwarder, you need to do business with your network partners who have been carefully selected on the basis of their reputation and creditworthiness. As one of the best and more reliable networks of freight forwarders, we make sure that all our members are untouched by bad debts from other members. Not only do we have strict membership requirements, we even monitor the member's performance to quickly identify any problematic indication like late payment of an invoice issued by another member. Additionally, you can always avail The Coop's Payment Protection Plan to add a further layer of security against bad debts.
Implement robust technology
Lastly, it needs to be said that technological innovations not only help with customer care and operational efficiency but also help to create better relationships with your partners. Investing in platforms that optimize workflows and processes will help to identify risks, solve them, minimize your response time and result in a seamless workflow. In other words, it will give you a competitive edge that will help to boost your image among your industry partners.