In the middle of global disruptions, the international ocean freight shipping market size grew from $10.24 billion in 2022 to $11.18 billion in 2023. Regardless of this growth, thousands of independent freight forwarders have suffered financial and time losses while trying to find the best time and locations to buy, sell, and lease containers.

In today's blog, we aim to provide you with a comprehensive overview of the trends in container prices while informing you about Container xChange's new platform and how it can help freight forwarders like you to make better decisions when it comes to container shipping. This new platform by Container xChange will allow independent freight forwarders like you to make more informed decisions when engaging in trading and leasing activities in this fluctuating container market.
The problem with the prevalent methods of learning market trends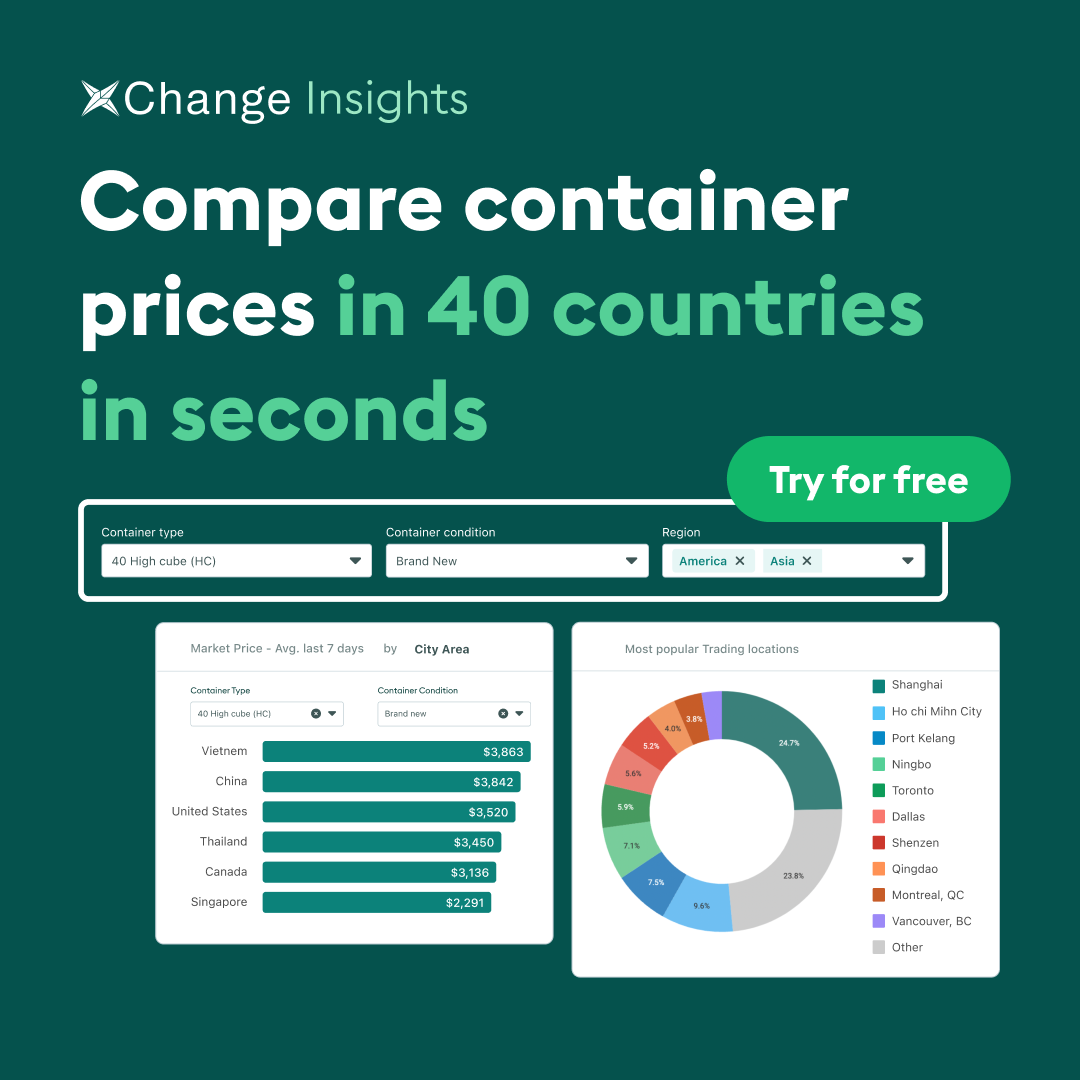 Container xChange conducted a survey to gain insights into how independent freight forwarders stay abreast of industry trends. The findings revealed that a significant number of freight forwarding companies still rely on cumbersome methods such as phone calls, WhatsApp messaging, and email communication with their partners and suppliers. Obtaining the latest container prices and SOC leasing rate trends often necessitates contacting multiple partners and suppliers, leading to a laborious and time-intensive task.
According to the survey results, 44% of companies dedicate time every day to research container prices and leasing rates, with a staggering 57% of respondents spending more than 2 hours on this endeavor. This amounts to an alarming total of 40 hours per month being invested in uncovering current market values.
xChange Insights: Essential market intelligence tool for independent freight forwarders owning shipping containers
To save time and make the market more transparent for its players, Container xChange has developed data-driven tools. One of them being xChange Insights. Insights aggregate data from Container xChange's container trading and leasing marketplaces, industry-leading sellers/suppliers, and shipping lines to supply daily updated price data in 130 cities. Here's one of a few scenarios where products like xChange Insights can save up to 40 working hours.
By leveraging data-driven tools like xChange Insights, businesses can efficiently identify cost-effective opportunities and make better decisions. To begin with, independent freight forwarders need to check the global locations supplying the cheapest containers. For example, currently, container prices in Antwerp are lower than prices in the US as well as China. Let's assume that you need to move a sea freight shipment from Antwerp to the Houston, USA. In Antwerp, a 40ft HC container (brand new) will cost approximately $2,700. The present rate to lease new 40ft HC containers from Antwerp to Houston is approximately $540 per container, with a relocation duration of around 70 days. Next, it is essential to examine selling prices in Houston. At the moment, one can get 40ft HC units for roughly $3,800 per unit.
Consequently, forwarders can easily calculate the expected profit for a single unit. Earnings from leasing out the unit + revenue from unit sales – cost price per unit i.e. $540 + $3,800 – $2,700. Therefore, in this scenario, the average earnings per unit of the logistics company will be $1,640. Thanks to xChange Insights, freight forwarders can learn about the current container market prices and their potential earnings from one-way leasing movements.
Therefore, to avoid unnecessary costs when transporting containers from one country to another, independent freight forwarders like you can lease out their containers for one-way moves. Leasing out the containers for one-way moves will save money on hefty empty repositioning costs and even help freight forwarders earn money while still having their containers moved to where they need them.

Join The Cooperative to have FREE access to the xChange Insights!
Free access to xChange Insights for The Coop members
Did you know that a significant 57% of companies spend over 2 hours each day trying to acquire accurate market prices? If you're already familiar with The Cooperative's partner, Container xChange, which offers a marketplace for container leasing and trading, as well as a data platform displaying container price fluctuations, you'll be thrilled to learn about this new benefit.
Through our partnership, you can now enjoy FREE access to the xChange Insights platform.
With xChange Insights, you can:
Stay updated on the current market prices for containers in 40 countries,

Identify the most suitable cities for container allocation, and

Maximize your profits in the container industry.
To take advantage of this exclusive offer, simply click on this link provided and sign up for free!