The global trade sector heavily relies on the logistics industry to connect diverse locations worldwide. However, a significant challenge arises due to the multitude of languages spoken in different regions, making the drafting of trade and sales contracts a complex task. This is where Incoterms prove invaluable. They establish a standardized format and a universally accepted language, facilitating clear communication among trading companies worldwide. For professionals within the logistics industry, staying abreast of Incoterms and the latest industry developments is crucial to negotiate more effectively, armed with an understanding of the current happenings in the sector.
After the success of the online seminar on Incoterms rules, called: "'I am an exporter and I am selling EXW, FOB o CIF?", Illice Universal Logistics, a Coop member in Valencia, Spain, is organizing the second edition with the objective of providing valuable information and knowledge to importers and exporters, to help them overcome the challenges of international trade. The Spanish language event will take place on 23rd November at 4:00 p.m. (Madrid time).
On this occasion, they will count on one of the authorities in this subject- Antonio Cuadra, an expert in strategic consulting in International Trade with more than 40 years of experience. According to Cuadra, in the competitive world of global trade, many companies often wonder which Incoterms rule is most appropriate for their international transactions as well as how to choose the correct payment method to guarantee the collection of their sales in the global market. "At this event, we will provide valuable information and practical advice on how to harmonize these two key components," he says.
The event is open for free participation. Those Cooperative members who understand Spanish are strongly encouraged to join the event by clicking on this registration link.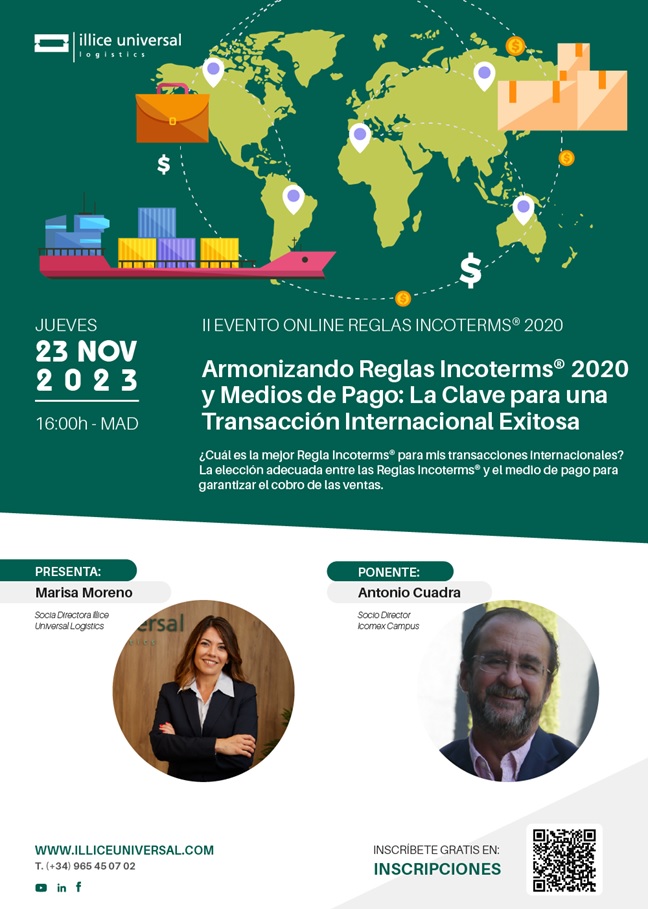 Why the Incoterms 2020 is significant for the logistics industry
Origins and evolution: The ICC's Incoterms rules from 1936 to 2020
The Incoterms rules, established by the ICC in 1936, intend to create internationally accepted standards for defining the delivery of goods in global trade. Since their inception, these rules have undergone periodic updates. Moreover, the Incoterms 2020 edition provides comprehensive notes and graphs outlining the responsibilities of exporters and importers for each Incoterms rule.
Facilitating international trade: The purpose and function of incoterms
Incoterms, a trademarked phrase by the ICC, serves to enhance communication and reduce confusion in international trade. Functioning as agreements between exporters and importers, Incoterms delineate responsibilities for specific tasks, charges, and processes in the trade process. Additionally, they encompass the transportation and logistical aspects, guiding the journey of goods from manufacturing to delivery at the consignee's location.
Incoterms offer a standardized set of rules and guidelines, serving as a universal language for traders to establish terms in their transactions. This common framework is employed by buyers and sellers across various business activities, such as generating purchase orders, labeling shipments for transportation, completing certificates of origin, or documenting free carrier agreements (FCA).
Incoterms for any mode of transportation: Understanding common rules
Several widely used Incoterms rules for any mode of transportation include EXW, DDP, and DAP. The Incoterms applicable to any mode of transport are:
EXW: Ex Works

CPT: Carriage Paid to

FCA: Free Carrier

DAP: Delivered at Place

CIP: Carriage and Insurance Paid to

DDP: Delivered Duty Paid

DPU: Delivered at Place Unloaded
For instance, DPU signifies that the seller delivers the goods to a designated destination, assuming all risks and transportation costs until the goods are unloaded. Subsequently, the buyer takes on the risks and transportation costs to the final destination. DDP indicates that the seller bears all risks and transportation costs, including clearing the goods for export and import, along with payment of associated duties.
Under Ex Works (EXW), the seller is obligated to make the goods available for pickup at their business location or another specified location. Here the buyer assumes all risks and transportation costs.
For sea and inland waterway transport, the ICC has established specific Incoterms rules, including:
FAS: Free Alongside Ship

FOB: Free on Board

CFR: Cost and Freight

CIF: Cost, Insurance, and Freight
Empower your business and gain insight into Incoterms 2020 rules at the conference
Lastly, Incoterms Rules are not compulsory since they are not enforced by the government. They work as a guideline that all parties have agreed to form a contract. However, it is for the freight forwarders to find out the best Incoterms rule for their international transactions and select the appropriate payment method to ensure the collection of their sales in the global market. This is precisely what the conference of Illice Universal Logistics will address. In the world of international trade, the correct harmonization of Incoterms rules and payment methods is essential to ensure successful transactions. Simply put, this exclusive event will provide the attendees with a unique opportunity to explore how to achieve a perfect synergy between these two key components in the field of global trade.
Their second conference on this topic aims to enhance the understanding of Incoterms 2020 Rules, helping buyers and sellers identify the most suitable rules for their operations. By doing so, one can effectively manage risks and costs associated with international trade. The conference will provide valuable insights on making informed decisions about payment methods, ensuring the success of each international transaction in terms of compliance and collections.