Although it has been over two years since the launch of Uber Freight, there is still a lot of talk over the rise of this app and its implications on independent freight forwarders. Moreover, this topic has become all the more relevant ever since Uber Freight has expanded its presence in Europe. Keep reading today's post to find out everything you need to know about Uber Freight and its impact on the freight forwarding industry.
What is Uber Freight?
Putting it simply, Uber Freight is an app that connects truckers with shippers. It enables easy transportation of cargo by allowing shippers to find the right carrier. The shipper needs to enter some basic info on this app like the pick-up and drop-off point, date and time of delivery, nature of cargo, etc. The app will automatically provide them with a number of quotations from several trucking companies. This quotation is generally based on several factors like volume of cargo, availability of driver, distance, weather, etc.
Now the shipper can instantly book the freight by hitting a button on his/her phone. Therefore, as you have surely understood, Uber Freight is a revolutionary app that is all set to alter the road freight scenario. This app which was launched back in 2017 operates in much the same way like the Uber Taxi app. The express purpose of this app is to provide trucking companies with better control over their job. It helps the truckers to increase their profit margin by eliminating middlemen and unnecessary expenses. Presently, Uber Freight operates across 48 states in the USA plus in Germany and the Netherlands. Additionally, they are all set to expand their services in Europe.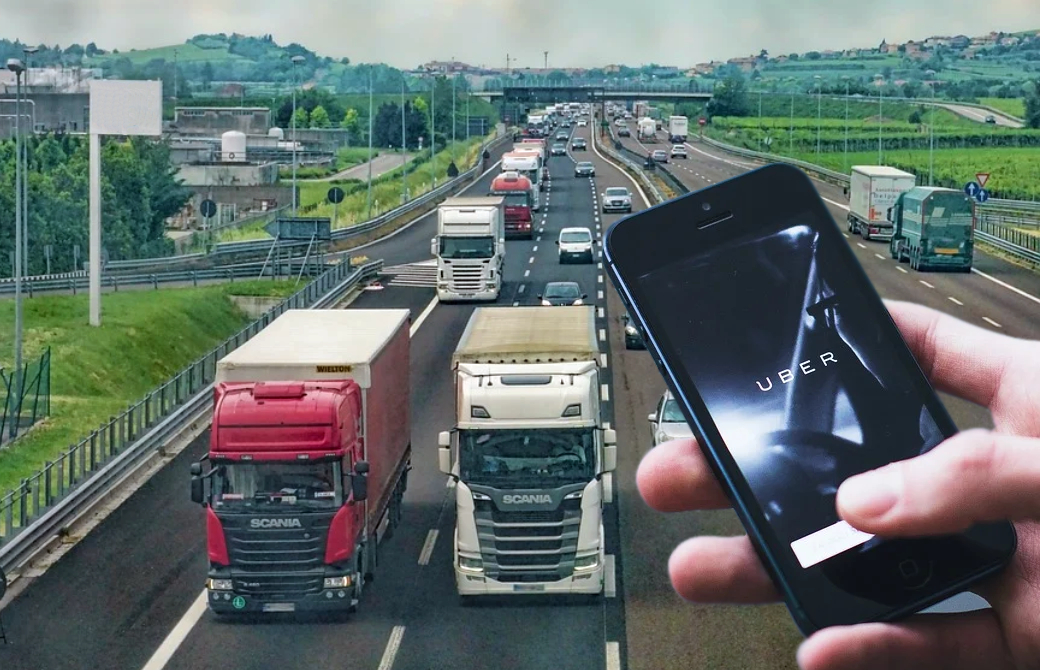 Before talking about how Uber Freight will affect the freight forwarding industry, let us take a quick look at some of its advantages.
Advantages of Uber Freight
It is more time-efficient
In the transportation and logistics industry, time efficiency is always of crucial importance. In order to make the process more time-effective, the logistics companies should spend less time on negotiating and dealing with the carriers. This process should ideally take as little time as possible. The primary advantage of Uber Freight is that it has modernized the transportation and logistics industry making it faster and more customer-friendly. It allows the logistics companies to arrange for a road freight shipment with just a few clicks on their phone. This helps to save time that was otherwise spent on micromanaging a host of processes.
Real-time location tracking
Real-time location tracking is yet another useful advantage of Uber Freight. It permits the shippers to track the exact location of their shipment. The location of the truck can be seen in real-time on the admin panel of the app. Furthermore, it also allows the shippers to provide the easiest route, set speed limits, and track any violations on part of the driver.
The conventional bidding process is not known to promote transparency of freight rates. Road freight service providers usually need to guess the market scenario and several other factors before quoting the freight price. However, predictions like these are not accurate and therefore a fixed rate for road freight is not always profitable for the logistics companies.
In other words, the advantage of Uber Freight is that it generates quotes based on real-time factors. The quotes take into account all the current factors like availability, weather, road conditions, etc, and expire very quickly. Therefore, the shippers can rest assured that the rate they are getting is reflective of the current market scenario. Additionally, the freight rates are never going to change once a shipment has been booked. In other words, if all the entered details are correct then there is zero possibility of any change in the freight rate once booked.
In the transportation and logistics industry, an app like this can take the lead in enhancing the overall productivity of the processes. This app ensures that all the trucks are properly made use of and that no truck is left non-working. Besides, it helps to modernize and simplify the entire process of booking and executing a road freight shipment.
Is Uber Freight posing a threat to the transportation and logistics industry?
The increasing popularity of this app among shippers has posed a substantial question- Is it going to be a threat to independent freight forwarders? The answer to this question is an emphatic NO. This app has altered the rule of the game but it will no way disrupt the freight forwarding industry. On the other hand, it will help the small and mid-sized logistics companies to better organize their road freight shipments. It has empowered the truck drivers. Independent freight forwarders can now easily take care of small road freight shipments by directly contacting the truck operators.
Disadvantages of Uber Freight
However, it has to be admitted that this app has and will continue to change the mode of operation of the road freight service providers. One of the most important drawbacks of this app is that prominent freight forwarding companies are now entrusting their customer's valuable cargo into the hands of an independent trucker. Chances are high that this truck driver who is in complete charge of your client's shipment is not a reliable person. S/he may not have the required experience or capability to transport a tricky shipment from Point A to B.
Independent freight forwarders need to think twice before hiring the services of a trucker from Uber Freight. This is because there is no way to check the background of the drivers, their experience, criminal records, license, condition of the vehicle, etc. Therefore there is always a risk involved. This is precisely why you need to join a reliable network like The Cooperative Logistics Network or contact your Coop partners instead of hiring an unvetted trucker.
What the logistics companies should do to stay competitive
Rather than depending on an unknown driver to transfer your customers' valuable shipments, it is always suggested that you partner with a member from The Cooperative Logistics Network for any road freight shipment in a different territory.

All Coop partners are the most reliable logistics companies in their localities and all of

them had to pass a strict selection process to become a part of the network. Moreover, independent freight agents also need to become more proactive and make use of all the available resources to better tackle the competition posed by multinationals like Uber. They need to work on the following things
Extend your operations
To begin with, they need to rethink their client expectations and automate and streamline their processes for enhanced customer service. This can only be done by having a set of reliable partners all over the world that only the best freight forwarder network like The Coop can provide. No matter if you need to move freight by road anywhere in the world, your trustworthy Coop partners will keep you covered.
Invest in technologies:
Freight forwarders need to make use of technology like never before. Logistics companies both small as well as multinationals are increasingly using TMS to optimize their day-to-day operations. They need to come up with a digital strategy that will not only increase their efficiency but will also allow them to serve their customers in a more comprehensive manner. An app like Uber Freight is becoming popular because it automates several operations and makes the shipment process much faster. This is why independent freight forwarders should also start automating several aspects of their shipment process. This will enable them to offer solutions that are on par with the multinationals.
In conclusion
You don't need to spend too many resources to start automating your day-to-day office jobs. You can always do this by making use of the tools at hand. At The Cooperative Logistics Network, we offer members one of the best freight quoting tools that allow you to manage rates, and provide instant accurate quotations. Using FreightViewer should be your first step to becoming a digital freight forwarder. This free and member-exclusive rate management software allows you to make smooth online transactions, and provide instant solutions to your clients' queries. Creating a digital strategy is absolutely imperative for independent freight forwarders to compete with the stalwarts in the industry. So do make the most of the free resources that the Coop offers you. These are your best companions that will prepare you for coping with the challenges of industry 4.0