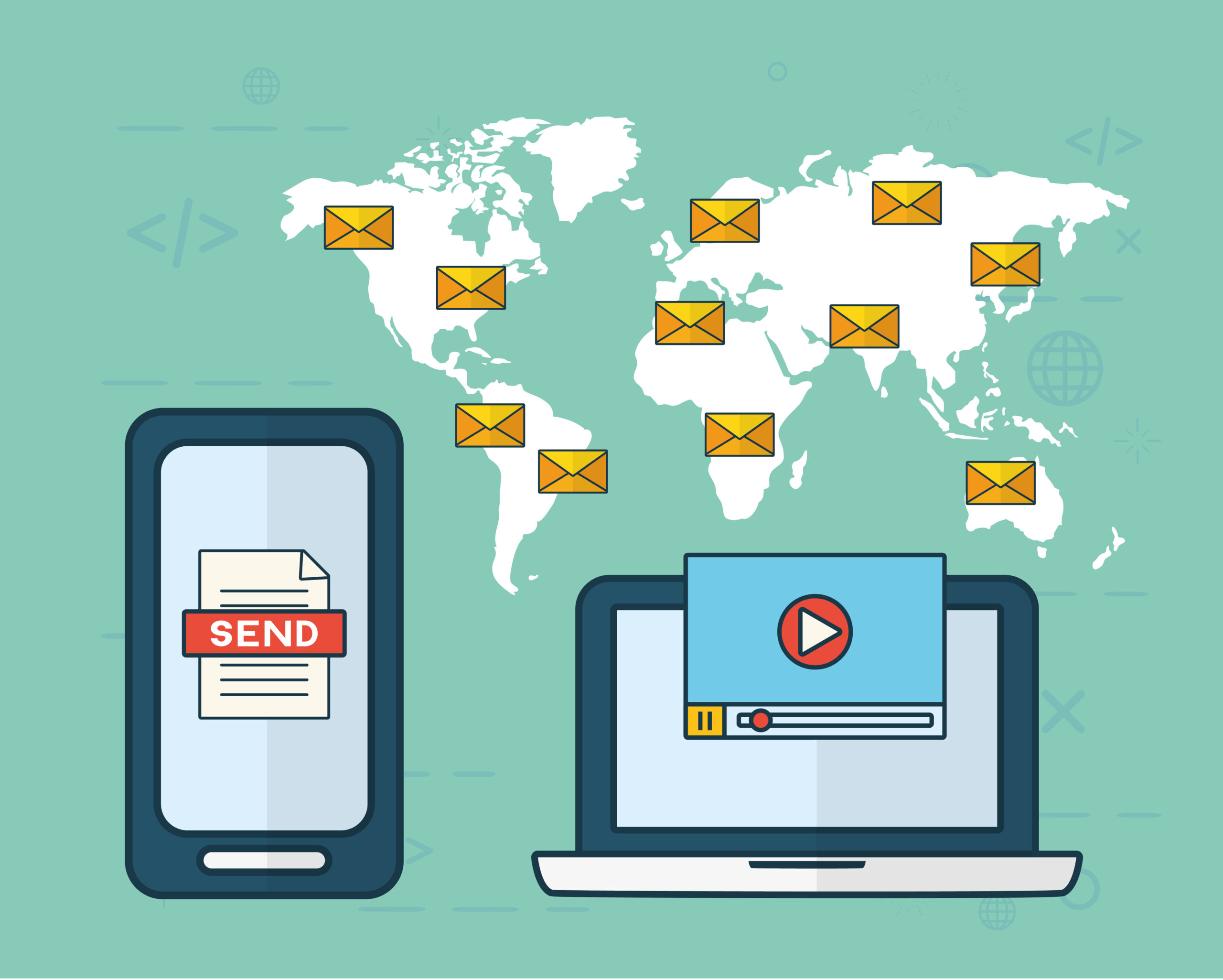 Email marketing is a highly valuable online marketing tool that can help independent freight forwarders with limited resources to build their brand. A well-implemented email marketing campaign can help logistics companies build better relationships with their clients, promote their services, augment sales and increase brand awareness. Email marketing not only allows companies to reach a large group of people but even allows the possibility of customizing the email content according to the needs and wants of the customers. The best part is that the receiver of the email who are the prospective clients of the freight forwarding company can review the information at a time convenient to them.
In today's article, we will take you through some of the greatest benefits of email marketing and discuss why logistics companies need to make it a crucial component of their digital marketing strategy.
What is email marketing?
We can define email marketing as a marketing channel that permits a company to communicate with its existing and target clients via email. It is a cost-efficient way for small and mid-sized companies to send the message about their business to their potential customers, boost website traffic, and be relevant in the minds of their clients. With over 4 billion email users around the world, this form of marketing is a convenient way for improving sales.
How email marketing helps independent freight forwarders to boost their brand
· Develop your brand
Direct access to the email inboxes of your existing and potential clients is hands down a straightforward way to develop your brand. Logistics companies need to send consistent and good quality content to boost credibility, recognition, and brand awareness. Moreover, regular updates about your services are an effective way to create a unique voice and image for your audience. Keep in mind that every email your send is not only an opportunity to connect with your audience but also a perfect chance to establish your brand identity. Lastly, it takes just a few emails before your audience will start recognizing your company logo. This is a very important factor as most customers prefer buying products and services from companies that they recognize.
· Build better relationships with your customers
Email marketing allows independent freight forwarders like you to take a major step towards taking your customer relationship to the next level. It is the cheapest and most effective way to send updates to your customers regarding your company, its policies, its services, and even the freight forwarding sector. If your audience has opted in to receive emails from your company then you should try to put in your best effort to send frequent emails with relevant and interesting content.
Even if your audience is not yet ready to avail of your service, you can still make an email marketing campaign to keep them engaged with the offerings of your company. In other words, this mode of digital marketing allows you to stay at the top of your audience's mind. Additionally, as an independent freight forwarder, you can establish yourself as an authority in the logistics sector by emailing industry-specific news, articles, and tips to your audience. Keeping your target audience posted with valuable information is a tried and tested way to reinforce your relationships with them.
· Grow your sales
Probably the greatest advantage of email marketing for freight forwarders is the increase in sales. Email marketing has an average ROI of 3600% and for some sectors, this ROI is even higher. As a result, a large number of companies across all sectors are now increasing the budget of their email marketing campaign. The last two years of the pandemic didn't allow small and mid-sized shipping companies to augment their sales. This is one more reason why most companies are trying to implement a well-structured email marketing campaign.
Sending well-timed offers to your customers, along with occasional promotional emails is highly likely to boost your website traffic and convert more leads. Additionally, you can also use email marketing to upsell your present clients and re-engage with those customers who haven't bought your service in a while. In other words, creating customized and targeted offers for your audience can motivate them to engage with your business and eventually make a purchasing decision.
· Time and cost-effective marketing strategy
Unlike any other marketing strategy, email marketing doesn't necessitate the presence of a tech-savvy team or considerable investment on your part. Moreover, it is also time efficient as it doesn't take a long time to prepare for a campaign. All you need to do is create your mailing list, write the content, and design the email and it will be automatically sent to everybody in your target list. There are several software in the market that make this task a seamless one. After shooting your emails you of course need to track your campaign and engage with your customers. Simply put, it is one of the easiest and most hassle-free marketing strategies.
Printing and sending flyers and hiring a marketing team for your business can become a costly affair for small logistics companies. However, email marketing is way more cost-effective than any other method of advertising. Even if you don't have a team of content writers at your disposal you can tweak the ready-to-use templates to create an HTML email and send it to your audience.
· The ability to send personalized content
Your audience is far more likely to read your email if they think it is really for their particular requirements. Email marketing allows independent freight forwarders to customize the content in the emails that will suit the requirements of your audience. Moreover, unlike other online marketing channels, email marketing has no limits on the spaces and characters allowing you to send lengthier messages. As the owner of a freight forwarding company, you are surely aware of the kind of clients you have and who are most likely to become your potential clients. You need to make use of this knowledge to create useful content that is relevant to the interests of your audience. Your emails should ideally focus on the pain points of your customers and seek to resolve them through your offerings.
· Easily integrates with other marketing channels
Yet another advantage of email marketing is how well it works with social media marketing and other marketing strategies for small businesses. For instance, as an independent freight forwarder, you can make use of your company's social media handles to find new email subscribers and conversely, you can provide your social media links in your emails to expand your number of subscribers. Additionally, your email marketing endeavours will send relevant traffic to your company's site which can be extremely useful to boost your SEO ranking. It can help you rank higher on Google search pages when your potential customers search for the services you're offering.